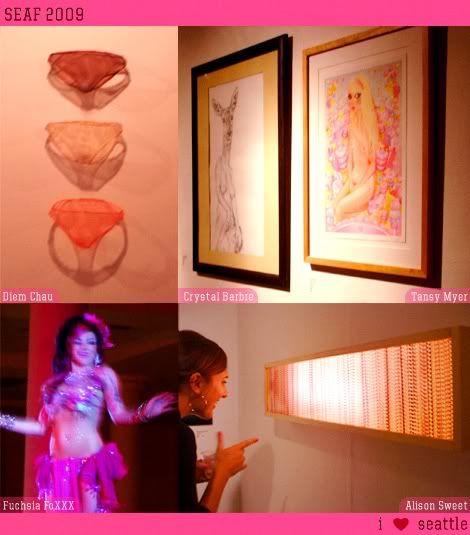 We just got back from the Seattle Erotic Art Festival and boy was that an experience! 
2 of my favorite pieces from the show were Seattle's
Diem Chau
with her delicate organza and mohair panty sculptures "Brown Betty" and
Alison Sweet's
"Nightlight" made up of 16mm found footage from vintage porn - I also love how she calls herself a feminist, intermedia artist and research nerd. 
I also really enjoyed
Crystal Barbre's
charcoal drawings of human animal hybrid coitus - with stripper heels!
Fuchsia FoXXX
was a hit at the artist reception with her belly dance and burlesque performance - hot, pink and sparkly! 
We really fell in love with Seattle, the people were so nice and we did happen to be there on one of the nicest days of the year but still... that city has a great vibe and is so green and lush thanks to all that precipitation. I can't wait to visit again and check out more of the Seattle art scene!